| | | | | |
| --- | --- | --- | --- | --- |
| Name | Whose side | Role | Relationship to Bride or Groom | From Where |
| Ms. Katherine Hicks | Bride | Mistress of Ceremonies | Long time friend to Bride | Met in Canada, when was in her early 20s |
| Ms. Elizabeth Pamela Robertson | Bride | Bride | | Born in Canada, lived in UK and Canada, most recently in Millis, MA, USA |
| Mrs. Pamela Mary Robertson | Bride | Mother of Bride | One and only Mother of Bride | Born in UK, lived in Canada and now lives in UK |
| Mr. Richard Doon Robertson | Bride | Acting Father of Bride | Uncle of Bride / Father's younger brother | Lives in Canada |
| Mrs. Helen Stirling | Bride | Maid of Honor | Younger Sister of Bride | Lives in Canada |
| Miss. Caledonia Stirling | Bride | Flower Girl | Bride's sister's daughter, eldest niece | Lives in Canada |
| Ms. Rebecca Taylor | Bride | Bridesmaid | Bride's Aunt's daughter and her Goddaughter | Lives in UK |
| Mr. Thomas Hodgdon | Groom | Groom | | Lives in Millis, MA |
| Miss. Hannah Callanan | Groom | Flower Girl | Groom's niece, father's granddaughter from second marriage | Lives in Scituate |
| Miss. Lauren Bean | Groom | Flower Girl | Groom's niece, Mother's granddaughter from second marriage | Lives in Sharon, MA |
| Mr. Dana Francis | Groom | Best man | Grew up with Groom in Mendon, went to school together | Now lives in California |
| Ms. Erin Matson | Groom | Soloist | Daughter of friends of Groom | Now lives in New York |
Ms. Katherine Hicks, Mistress of Ceremonies
Liz and Katherine met, the first time, twice. Katherine interviewed her as a potential room mate for her apartment in High Park in Toronto, but Liz's looks, did not endear her to Katherine. Imagine, it was the mid-80's and while Katherine had a business degree and a good sales job, Liz was newly arrived in Canada from the UK, just shaking off the old punk image of a university student. Katherine despite Liz's weird looks (especially her hair) decided to ask her back to interview again. She was very unsure that two such different people could cohabitate. In the end they did live very happily ever-after. They have been friends now for 20 years, through thick and thin. Katherine is now a director of training with Canada's largest cellular provider. If I could say what Kathy taught me, it would be how to run a dinner party and how to ask and answer difficult questions.
Mrs. Pamela Mary Robertson, Mother-of-Bride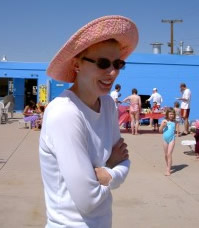 Liz's Mum is her friend, always has been. She has always treated my sister and I as independent beings with valuable opinions. She never thought that we could not do what we set out to achieve and would offer practical advice along the way. There is no space to write down how amazing my Mum is. Despite her having a childhood of constant illness and pain with many personal difficulties Pam is not bitter – she is a warm and loving human being. She raised her two girls on her own and is a constant source of inspiration and irritation to us, (when if ever will she slow down). If everyone had a Mum like mine the world would be a better place. She taught me to respect myself and others.
Mr. Richard Doon Robertson, Uncle Rick, acting Father of Bride
No one will correct me if I say that my Uncle is not very old, he is mature, but still has not lost the ability to be engaged by people and the world around him. Uncle Rick really would give you the shirt off his back. Despite my parents divorce Uncle Rick and my Aunt Rose kept in touch with their nieces and so I never lost the other side of my heritage. Uncle Rick is interested in everything and everybody. He is getting a little slower with age, but that helps us to catch up with him. So he is exactly the right person to teach children – and then find a good game to play afterwards. There are so many stories about Uncle Rick, but they are all told with the humor and the fun characteristic of him. When I first moved to Canada I lived with my Aunt and Uncle. It was very hard. I had the worst job as a chambermaid – in November at winterized cottages. Every day they pointed out to me that "I did not need to go out to work that they would support me," which they did on my pittance in any case, but it was a hard battle to do the right thing.
Mrs. Helen Stirling, Alex, sister and Matron of Honor
My sister has two names, (long story), which is typical as she has always been a little out of the ordinary. However, if I was filling out an ad for a sister, she would be the perfect fit. She must have completely different interests, (no competition), have total loyalty and demonstrate a commitment to come whenever needed. She must have genuine affection and a good sense of humor. She should have the ability to produce truly stunning offspring (although grateful thanks to Jim Stirling for his contribution). And my sister fits the bill. An engineer in life and of life – she is my best friend. We have been close and get closer ever year. If only she was the oldest. I cannot imagine life without her.
Miss. Caledonia Stirling, Callie, Flower girl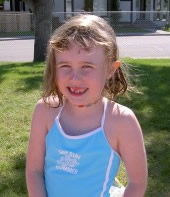 She is my first niece, which makes her very special, which is a coincidence as she is very special anyway. I am told she is very like me. She is seven years old. She is taking this wedding very seriously, as am I. She has consulted me on a number of issues, her hair, her teeth (or presently a temporary lack thereof), her dress, her shoes and many of the fine points of etiquette. I have known her all her life and love her so much, that it will be pure joy to have her standing up with me. It is unfortunate that she will be prettier than the bride. Callie is also amazing as she can touch her nose with her tongue!
Ms. Rebecca Taylor, Becky, Bridesmaid
My Mum's sister had one daughter and I was named the Godmother and then left for Canada. I have been letting Becky down for years, but now FINALLY, as promised she will become my one and only bridesmaid. She managed to survive without me, despite her truly eccentric mother and is going to stand with me. Becky has a sweet nature at odds with the rest of us on the maternal side, who have a tendency to be a little opinionated, and do enjoy being in control, Becky is most definitely the nicest of our family. Do not for the bouquet – or I'll have to deck you. Becky's getting it.
Miss. Hannah Callanan, Flower girl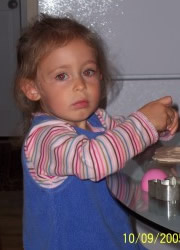 Hannah is the Groom's second niece of flower girl age, although she will be the youngest, at three, in the trio. (Tom could have had more if we had waited for her sister and cousin to grow). Hannah is a bundle of energy and fun. It is unfortunate that she will be cuter than the bride. Living by the sea she has that healthy glow that we older girls tend to pay for. I know that she will bring along her usual sense of play to color the ceremony.
Miss. Lauren Bean, Flower girl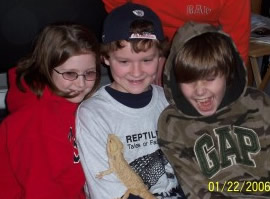 Lauren is the Groom's second eldest niece and she will be the oldest flower girl, at just nine. Lauren is a good teacher and recently has been improving the Bride's catch (a lost cause) and while very patient, still is quite transparent. We are sure that she was not convinced that the dress would suit, but once she tried in on, she had the good fortune to know that she looks really lovely in it. Please tell her so. When not being a flower girl, she is becoming a very good student of karate.
Mr. Dana Francis, Best Man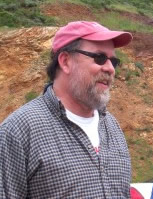 Dana and Tom are best friends, you can tell, whether they are seeing each other after 2 days or two years they are just comfortable around one another. Speaking as an interested party I notice that Dana is definitely on Tom's side, so I shall have to be on my best behavior while he is visiting and while the papers are unsigned. Father of two boys, and lives in Oakland, Ca.